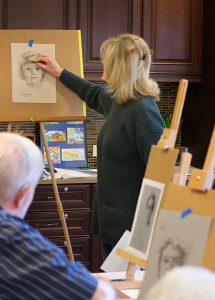 At Clermont Park we encourage volunteers to form deep relationships with residents, associates and clients that lead to new growth in the form of new experiences, enriching programs and opportunities to make a difference.
"Volunteering in the health suites has shown me the dignity that exists in every person in every stage of life."
Barb Butler, volunteer for several years at Clermont Park
Unique to Clermont Park
Clermont College – This resident run program has a full load of course work and graduation ceremony – residents, staff and volunteers are the teachers.
Eden Certified – As an Eden Alternative Certified Home volunteer experiences support ending loneliness, helplessness and boredom, creating vibrant communities for elders to flourish.
Adult Day – Older adults enjoy fellowship for the day, volunteers help make it happen.
Student Partnerships – We welcome student volunteers from elementary through college to learn, explore and have fun with older adults in our community.
Want to learn more? Tell us a little bit about yourself by filling out this form and our Volunteer Coordinator will contact you to talk about the endless possibilities of volunteering at Clermont Park.