Clermont Park Residents Enjoy Community Remodel
Community Life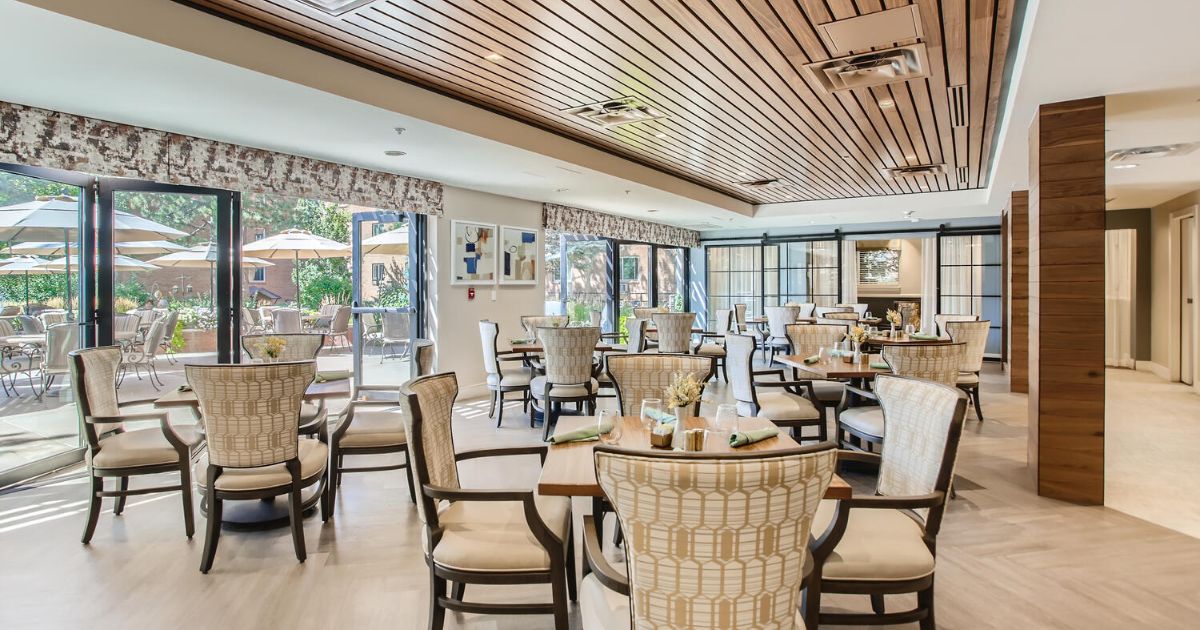 Posted: September 7, 2022
Residents and staff at Clermont Park, an active adult community in Denver's University Hills neighborhood, are enjoying a recently-completed, major remodel of the community's entryway and dining area.
---
Announcing Clermont Park's Second Place Finish in the 2022 Senior Housing News Architecture & Design Awards
We are thrilled to share that the 2022 Senior Housing News Architecture & Design Awards recognized Clermont Park as the runner-up in the category of Dining Renovations. The light-filled Pines Café offers residents and team members a seamless connection to the outdoors, increased natural ventilation, and improved safety and functionality features. View the dramatic before-and-after photos on Clermont Park's nominee profile.
---
"To me, this space represents happiness. It gives us a chance to enjoy being out and about in beautiful surroundings with people who we care about," said resident Diane Stanbro.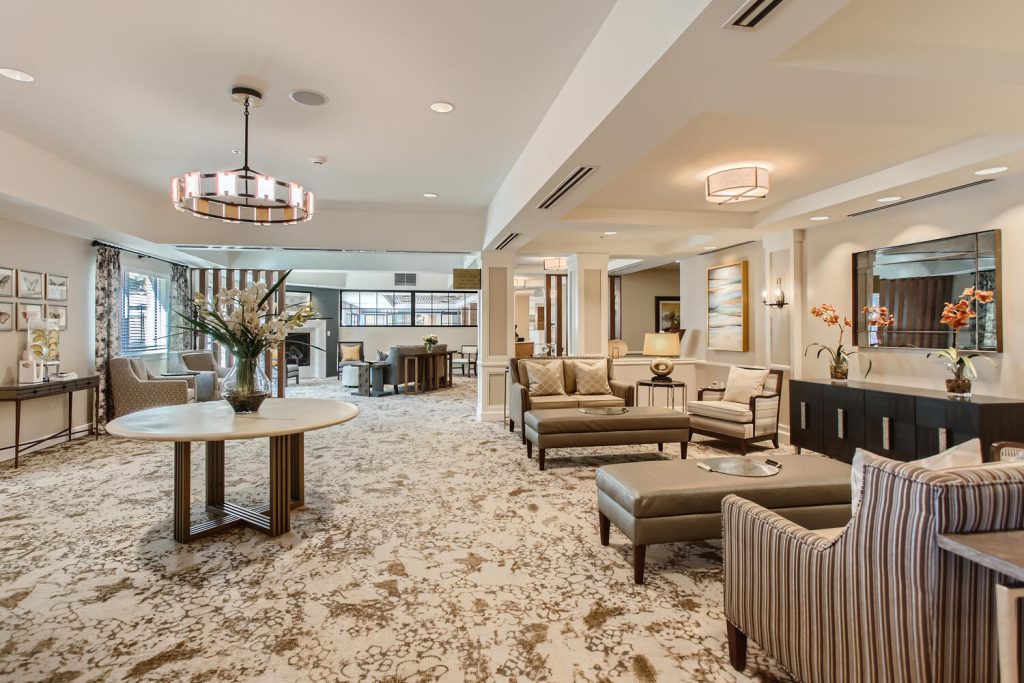 Once called 'The Marketplace,' the beautifully renovated dining area has been renamed 'the Pines Café' by Clermont Park residents, which was actually Stanbro's suggestion. "We're a Colorado community that embraces Colorado's active lifestyle, so I felt the name Pines Café represented what we're about," Stanbro explained.
According to Clermont Park's Executive Director Don Backstrom, the community's entryway and dining area are at its center—the place where residents, family members and visitors connect. Over time – and a great deal of use – these communal areas had begun to look dated and were not functioning optimally.
The remodel of the Pines Café now affords residents the opportunity to dine indoors or outdoors on the directly adjacent front courtyard. The remodel better connected the two spaces through the addition of two large, folding glass windows and lighter, larger doors. A two-sided fireplace was also added where residents can enjoy cocktails, hot chocolate and conversation.
"I love the fact I can sit here outside and enjoy my cup of coffee in the morning sun," quipped resident Phyllis Dye. Dye is a familiar face to almost everyone at Clermont Park, having acted in several of the community's play productions, including her role as 'Lucy' in 'You're a Good Man Charlie Brown.'
In addition to renovating the entrance and dining areas, all furniture, flooring, tile and finishing were replaced. An entirely new color scheme, picked with the help of residents, was installed to reflect its innovative and progressive community. A new concierge desk has also been incorporated using updated screening procedures for added security.
"The result," said Backstrom, "is an inviting atmosphere with a spectacular outdoor dining area and a brand-new restaurant."
Executive Assistant Bethany Sprague, who wears many hats at the community, summed it up, "Clermont Park feels like home – a hip, active, engaging and beautifully remodeled home."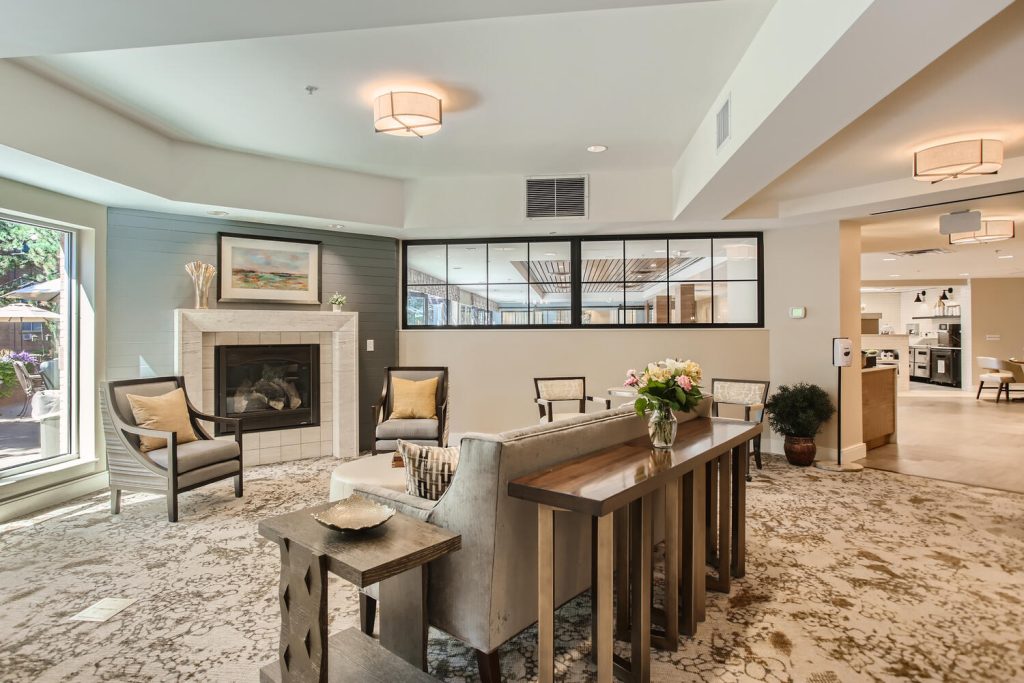 Diane Stanbro and scores of other fellow residents gathered last winter to celebrate the makeover at one of the two restaurants located at Clermont Park.
The Jacob Larson Duo entertained residents and staff during the remodel celebration. Although just 23, Larson is a seasoned and popular performer in Colorado's music scene: He's performed at hundreds of music venues and the biggest festivals in the state, including Taste of Colorado and Larimer Square. Even so, Clermont's recent celebration was his first ever gig at a retirement community.
"One of the things I love most about music is its power to bring people together and unite them in joy," said Larson. "Seeing Clermont's residents and staff dancing and celebrating to our music is what it's all about – music transcends age and ties us together."
Learn more about Clermont Park's remodel celebration in this article published in Denver Post's YourHub.