Clermont Park Awarded World's Best Culture Certification
News

Posted: August 3, 2023
The Clermont Park community is honored to share that we have been awarded with a World's Best Culture Certification from Drive, a consulting firm centered on senior living culture. This prestigious designation is a reflection of Clermont Park's deep commitment to fostering a thriving workplace culture that is aligned with and supported by the broader values of our parent organization, Christian Living Communities.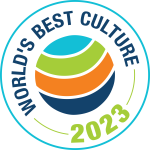 While the Drive World's Best Culture Certification specifically recognizes senior living organizations for their outstanding cultures, the certification's benchmarks are based on evaluations of thousands of companies using the internationally recognized Culture Values Assessment by Barrett Values Centre. The Culture Values Assessment has been used by companies across the globe and spanning all industries, including Mastercard, Coca-Cola, Prudential, and Volvo, and Barrett's database includes 25 years of data and four million culture assessments.
The Culture Values Assessment prompted Clermont Park team members to identify and share their personal values, the current values of our community as a workplace, and the desired values in an ideal workplace. Through this feedback, a culture score was calculated, which represents the strength and health of an organization based on the alignment between personal, current workplace, and desired workplace values, and takes into account any negative and/or limiting values which might be present in responses.
In order to attain the World's Best Culture Certification, organizations must achieve a minimum score of 70 on the Culture Values Assessment. Clermont Park's culture score was 80, far exceeding the global average score of 51 and Drive's senior living average score of 58. This score emphasizes Clermont Park's exceptional workplace culture not only within the senior living field, but also compared to companies across various sectors and continents.
"Applying globally recognized culture measurements to aging services means those organizations earning this high distinction have the caring heart of a senior living provider AND the culture of a world-class business leader," Denise Boudreau, Drive Founder & President, said.
The World's Best Culture Certification holds great significance for the team at Clermont Park. Residents and team members alike thoughtfully contribute and tend to our community-wide culture each and every day. Being recognized for what we are building together has instilled a deepened sense of pride and achievement. We also look forward to new the opportunities this certification may bring to reach job seekers who are similarly aligned in their values, further strengthening our community and services. Amid workforce challenges both nationally and within the senior living field, this certification demonstrates that Clermont Park is an outstanding place to live and work.
While this certification is an exciting accomplishment, Clermont Park views this as a large step in the right direction, but not our destination. Building and safeguarding our workplace culture is an ongoing journey that continually inspires us to evolve, refine, and grow as a community.
In addition to Clermont Park's World's Best Culture Certification, our parent organization, Christian Living Communities (CLC), also received this esteemed designation. CLC's overall culture score of 76 and subsequent certification encompass the feedback of seventy-five percent of team members across all nine CLC-Cappella communities, Rhythms Home Care, and the organization's home office.
"'We Celebrate!' is one of our four values, so we of course will take time to celebrate this amazing news and achievement," stated Jill Vitale-Aussem, CLC President & CEO. "This certification tells me that CLC is a thriving and very healthy organization. But the worst thing we could do is celebrate and then rest on our laurels. Each of our communities, including our support office, is now digging into the results, having conversations with team members, and setting measurable goals for improvement and continual growth. Collaborative approaches to improvement is the cornerstone of our CLC Citizenship approach to community life."